In Memory of Gregory Lynn Poe – 1953-2011
"Life is not about finding yourself, life is about creating yourself"
- George Bernard Shaw
Greg Poe passed away on July 24th from an apparent heart attack at the age of 57. Poe, a Boise native, had been performing professionally as an airshow pilot for over 20 years, and is considered one of the best aerobatic performers in the world. He acquired over 10,000 flight hours in over 100 types of aircraft in his career. He is survived by his daughter, Kelsey, girlfriend Terri, and brothers Russ and Rick Poe.
Memorial services for Greg Poe were held Wednesday, August 17th, at 7PM at the Idaho Center in Nampa, ID. We'd like to once again thank everyone for their tremendous support and well wishes during this time.
KTRV 12 in Boise Remembers Greg

Greg Poe and Steve Appleton posing as the Wright brothers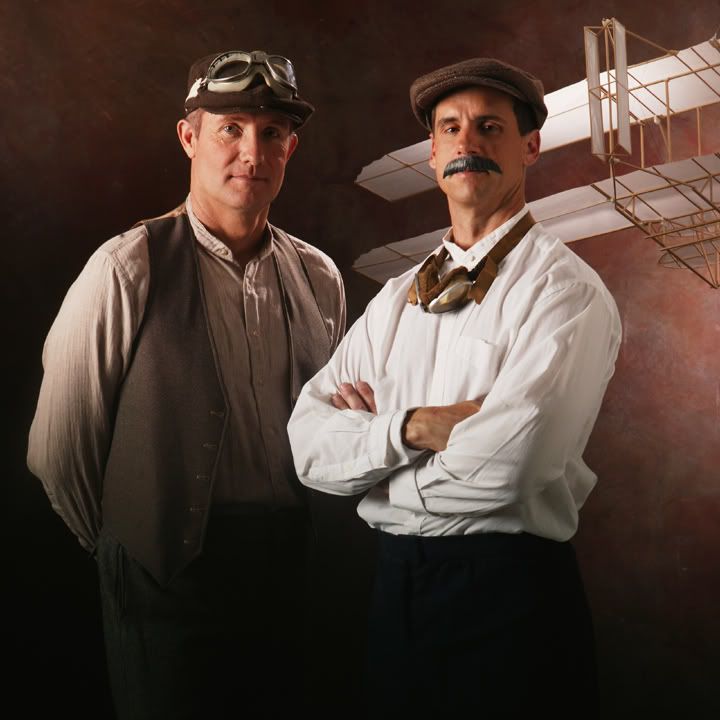 In addition to his company, Greg Poe Airshows, Inc., Poe was the founder and principal of the Ryan J. Poe Foundation, named for his son who was lost to drug addiction in 2002. From that loss came Poe's Elevate Your Life program, through which Poe visited and spoke to thousands of middle and high school age children with the message of "Aim for the Sky", encouraging them to follow their dreams and not let the world distract them from their goals.
In a recent interview, Greg Poe said he "wants to be remembered as a pilot, an entertainer and someone who gives back to the community."
Those wishing to make contributions to Greg's memory can do so by making a donation to the Ryan J. Poe Foundation, 11852 W Hickory Dr, Boise, ID 83713. Tributes can also be made via PayPal. For any questions concerning payment methods, you can contact Russ Poe at (208) 353-1509.
© 1991 Greg Poe Airshows. All Rights Reserved.